This is a "re-run" of a post from last year - you might like to whip some of these up as holiday gifts!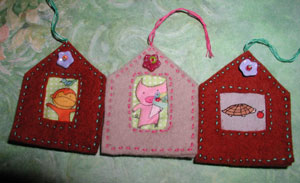 I came up with this idea a couple days ago. These are easy to make and I must say addictive - I am sure I will be making more!
You will need:
wool felt
novelty fabric with a small scale motif
flower bead and seed beads
embroidery floss in a contrasting color from your felt
needle, pins, and tape
scissors
Cut out the little house pattern which is available
here
. Cut out on the outer line and then carefully cut the window out using small sharp scissors. you may need to adjust the size of the window to fit your motif.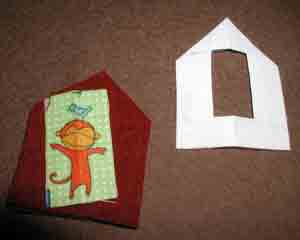 Position the cut out house over your novelty fabric and move it around until you get just the bit you want peeking through the window. then cut out a small square of your novelty fabric that is a bit bigger than your window all the way around.
Lay your felt on top of the cut out motif and position as you want it. Pin it and stitch all the way around the window using 2 strands of embroidery floss.
Sew a flower bead at near the top of your house.
Layer the 2 felt houses together and stitch all the way around the outside of the house to fasten the front and backs together. Work your ends in. Add an embroidery thread loop to the top and it's ready to hang!