I was thinking that I should start sharing work by other artists I admire on days when I do not have any new art of my own to show. (I actually might have some later today but we shall see, busy busy.) So today I am happy to share
Andrea Stern's
Red Bird In the Morning. I love the red and blues together and it reminds me of a quote from Rabindranath Tagore:
"Faith is the bird that feels the light and sings when the dawn is still dark."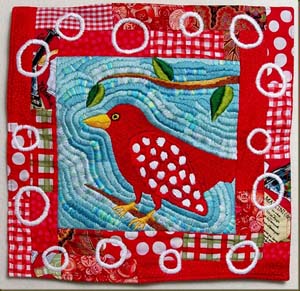 Visit Andrea's
blog
to see a larger image of Red Bird and to enjoy more of her work! She also has an
Etsy shop
.